HUILE LACTÉE Total cleansing oil (200ml)
£27.50
HUILE LACTÉE Total cleansing oil (200ml)
Limited Offer - Total cleansing oil 
All skin types, Face and Eyes makeup remover, rinse easily without leaving a greasy film.
Effective even on waterproof makeup.

Very rich in vegetable oils :- 
APRICOT OIL - Revitalize, revive the radiance.
MACADAMIA OIL - Soften, restore comfort to the skin

WHY AN OIL ? Because it's easy and quick to use, it completely dissolves fatty substances (makeup, excess sebum).

WHY MILKY ? Because this thin and light oil turns into a milky emulsion that is pleasant to use. The skin is clean and does not tighten, the skin barrier is preserv
* SPECIAL OFFER VALID UNTIL 30TH OF JULY - Order this product and it will come in a fabric bag with a guest towel completely free.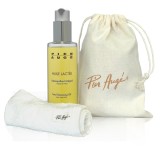 Beauty Oasis Tip:
Deliver two pressures of Total Cleansing Oil in the palm of your hand. Apply to dry skin, all over the face, eyes, neck and massage. Add a little water to turn the oil into milk. Then rinse thoroughly.
You May Also Like